How do you buy an NFT? With the right cryptocurrency as a means of payment, a wallet to store your NFT, and this cryptocurrency and the right knowledge about NFTs, you can come a long way. 
NFTs: For some, it's completely new for others it's the next step in digital evolution. It already starts to look quite hazy at the word: non-fungible token. Anyway, this is an interesting subject to delve into, because collecting NFTs can be fun and lucrative. An NFT is a unique one-of-a-kind token that can become a valuable collector's item an asset. A digital artwork, a trading card with a cheerful pixel image, the tweet of a special & famous person, or a piece of land in a game: these are all NFTs that are collected and traded. 
An NFT can therefore be used for very different purposes and can therefore also be a valuable asset to trade. This diversity makes NFTs an interesting topic within the crypto market to delve into further.  That is why we provide a detailed answer to the question: how do you buy an NFT? 
What do you need to buy an NFT?
Maybe you have become enthusiastic about the stories about NFTs and now you want to have "such a thing" yourself. Artists sometimes earn unprecedented amounts with NFT art. You used to spend all your pocket money on football cards and now you hear about NFT trading cards that you can earn with. Maybe you know the stories of a friend of a friend who plays NFTs games and earns cryptocurrency from it.
It is also not so strange that, if you follow the developments about crypto, you have often come across stories about NFT. Everyone is talking about it because it is a versatile asset that you can create yourself, collect or play games with. 2021 is the year in which NFTs have become very popular. Purchasing an NFT is not complicated, especially if you read through the information below. Because, what do you need to purchase an NFT?
A means of payment
The sun rises for nothing. And that is of course about the only thing you get for nothing in this world (although below are some tips on how to get free NFTs too! More on that later!) So you also have to pay for an NFT and this goes in almost all cases with payment in cryptocurrency. 
Which cryptocurrency you can pay with depends a bit on where you buy what. In many cases, the payment goes in Ethereum (ETH). Ethereum is the largest smart contract platform and development platform for blockchain projects. That is why the platforms where you can purchase NFTs often use Ethereum as a payment method. 
Ethereum is not always the means of payment, some sites have developed their own token that you use for the payment of an NFT. In addition to payment of the NFT, in many cases, the costs of gas fees are added. Gas fees are the costs for using the network, a kind of transaction cost. 
Keep this in mind, because this can sometimes make a difference in the final price. It is also good to see in which cryptocurrency you have to pay the gas fees. In many cases, this is ETH because marketplaces are often built on the Ethereum network and make use of it.
Cryptocurrencies such as Ethereum can be purchased on an exchange. Binance and Bybit have many different tokens. 
A wallet
In addition to cryptocurrency, you need a wallet to store it. A wallet, of course, simply means wallet. But a cryptocurrency wallet often has some more functions. So you can also store NFTs in it. You need a wallet because after your purchase the NFT has to be sent somewhere.
Metamask in many cases. This is suitable for Ethereum, in which you often need to pay your NFT and any gas fees. You can of course also opt for a hardware wallet such as from Ledger. This is the safest solution because although a good online wallet is very safe, you can never completely rule out a cyber attack.
If you also want to be able to enjoy your NFT without sitting in front of your screen, you have several options for this. For example, with digital frames, you can hang and display your entire NFT collection on the wall. 
Where do you buy an NFT?
Where you buy an NFT is a bit different from what you want to buy for NFT. NFT art is often sold directly from various marketplaces. We will go on in a moment about what kind of NFTs you will find on such a marketplace or NFT exchange. 
You can usually also buy the cards for NFT trading games via the site from where you play the games. These are then, just like you buy Pokémon tickets in the store, usually available in booster packs. You then get x number of cards at once and it is a surprise which one you get. You can also buy individual NFTs via the site.
What is an NFT marketplace?
This is a marketplace for NFTs. These work the same as eBay where you click on a product, pay, and the product is sent to you. Often different types of NFTs are sold together here. Whether you're looking for the NFTs of digital marketing guru GaryVee, a special tweet, cute memes of crypto kitties, or an NFT of a legendary moment from a boxing match, you can find it all in the same marketplace. 
This shows that for crypto investors it does not matter whether it is a game or a work of art: an NFT is a popular investment and trading product on the crypto market. We mention 4 different NFT exchanges here:
OpenSea
OpenSea is somewhat what Binance to the crypto exchange: it is the largest and most versatile NFT trading platform. It has a simple system to buy and sell NFTs. It is also quite easy to create and add NFTs here yourself. This platform is built using Ethereum. You also use ETH for payments. You can connect a Metamask wallet for the payment and receipt of the NFTs. 
Binance NFT
Binance, the largest crypto exchange at the moment, recently also has its own NFT marketplace. Creatives can sell their NFTs here and you can also buy them here. Buying an NFT is as simple as in a web store. You can also bid in auctions here and you will be notified of drops. Payment is made in Binance's own cryptocurrency (BNB) or the stablecoin (BUSD)
Enjin
This is a blockchain gaming platform with a marketplace specifically for gaming NFTs. Here you can buy assets that you can use for the games built with Enjin. On the marketplace, you pay with the token of Enjin (ENJ).
Nifty Gateway
This NFT marketplace is for collecting Nifties. These are NFTs made especially for Nifty Gateway. Nifty Gateway works together with artists, athletes, and also brands. At Nifty Gateway, you can pay with dollars and your credit card.
The Different Ways to Buy an NFT
You will see that NFTs are sold in different ways. If you delve into this a bit and start collecting, it can be useful to keep an eye on certain sales promotions. These can be great moments to buy an NFT cheaply. Here are some ways you can buy an NFT: 
Purchase from a marketplace
This principle is quite simple and is the most commonly used. An NFT is offered. You pay the requested amount and the NFT automatically comes into your wallet. This works the same as a purchase via Bol.com or eBay. 
Auction
At an auction you can bid on an NFT. This is basically the digital version of an art and collections auction house. Often there is a certain time until when you can bid. If you are the highest bidder within the time limit, the NFT is yours. As a result, prices can rise considerably. But it can also provide the opportunity to acquire an NFT that becomes more valuable over time for a good price.
Drop
A drop is a special sales promotion that you often see with collectibles or NFT art. A collection is launched in one go, this can also be a special or limited edition. You can then only buy these NFTs within a certain time. Often you can bid on these works, sometimes they go away for fixed prices. A drop can be a good time to get NFTs for a good price. Because they often take place at the launch of a collection, game or artist place. You will usually be there in time before the prices really start to rise.
How do I get free NFTs?
Free NFTs, is that possible too? More fun than paying a good price for an NFT is of course getting one for free. Artist Beeple had a promotion that he himself was going to raffle some NFTs to fans. Since an NFT artwork by him went under the hammer at Christie's auction house in March 2021 for $69 million, this is a nice promotion.
That free NFT could be a bit of fun for your great-great-grandchildren if your great-great-grandfather left you a drawing by Vincent van Gogh. But this can also generate nice free money for yourself since Beeple's NFTs will be among the best-selling in 2021. To keep an eye on fun airdrops, where you can win NFTs, it is important to follow the news about NFTs. For this, it is good to regularly visit NFT exchanges.  
You can sometimes also earn NFTs with games. Play to earn, playing a game to earn currency, is already becoming a well-known principle. You usually earn tokens by playing a game like Gods Unchained or My Neighbor Alice. In certain tournaments, you can also win NFTs this way. These can be used again in the game, but can also be traded on marketplaces.
Two practical examples of how to buy an NFT
We have now broadly explained how to buy an NFT, what you need for it, and where to buy it. For the sake of completeness, let's now take a look at how the purchase of an NFT on platform OpenSea and Game Axie Infinity works in practice.
Buying an NFT on OpenSea in 10 steps
We will now go through the purchase of an NFT step by step on the OpenSea platform. The sale of NFTs on marketplaces is broadly the same. Since OpenSea is one of the largest and best-known platforms, chances are if you ever buy an NFT it will be through this platform. Suppose your eye has fallen on SkeptiCat, how do you buy this NFT kitten?
Buy now – When you have selected an NFT you want to buy, in our example "SkeptiCat", click on "Buy Now"
Agree – Now you get a small overview of the details of the NFT you want to buy. If everything is correct, you must now press "Agree" if you want to proceed with the purchase.
Purchase – After this, you have to click on a small "terms of agreement" and then click on "Purchase".
Convert – After that, ETH has to be transferred to the platform you buy the NFT from. If you press "convert", a small screen will open stating how much you have spent on gas fees for this transaction. You then confirm that you want the purchase.
It will now take a while for your deposit to be initiated.
After this, it takes about 10 minutes for the deposit to be completed.
Unlock – Now you can unlock the cryptocurrency.
Sign – Your wallet, if connected, will be opened and you authorize the transaction from your wallet.
Your NFT will now be transferred to your wallet. This can also take a while before it is actually available. 
The purchase of your NFT will also appear in your account on OpenSea but will be in your wallet. You can also transfer from there to other wallets or a digital frame.
Buying an NFT on Axie Infinity
Axie Infinity is one of the most famous play-to-earn games. In the game you can collect NFT monsters, breed / grow them (they are a kind of animal/plant figures) but also let them compete against each other. This game will be very popular in 2021 with more than 250,000 players worldwide every day. The most expensive Axie ever sold for 300 ETH. Axies are traded on the site's marketplace, among other things.
What do you need to buy Axies? Also to buy an Axie you must have Ethereum and a wallet to store the Ethereum in. In addition, you need a Ronin wallet to put your Axies in. This wallet is part of the game and can be downloaded.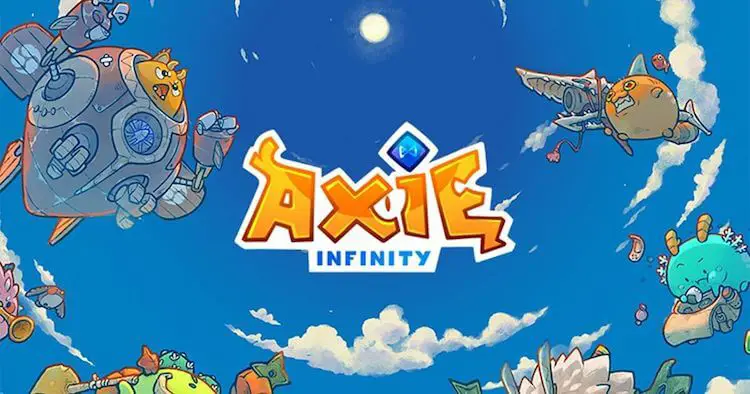 How to buy an Axie?
From your wallet, transfer ETH to your Ronin wallet to purchase Axies. You do this by clicking on "Deposit" in your created Ronin wallet. 
Now you can specify how much ETH you want to transfer from one wallet to another. It also states what the gas fees are for this transaction. 
It takes a few moments and then you can find your purchased ETH in your Ronin wallet. 
In the marketplace, you can now buy the Axie assets by clicking on the asset and approving the purchase. The advantage is that you don't have to pay gas fees when you buy an Axie. Your Axie will appear in your Ronin wallet after purchase. 
Making money with NFTs: what do you pay attention to when purchasing?
Buying an NFT is quite simple. Buying a valuable NFT is another. If you really want to build up a fortune with NFTs, there are a number of things you should pay attention to when purchasing them. It differs a bit for what exactly your NFT is, and what you should pay attention to. In a game NFT it is important what the value is in the game. What can you do with this asset? For example, a special power that comes in handy in a battle ensures that the value of an asset increases. 
Who is the owner of which you are buying the NFT and what is the history of the NFT is also important thing to look out for when making a purchase. If an NFT has been resold many times for a good price, that's a good sign. You buy a sought-after NFT that you can probably easily resell for a profit. You have to be careful here that you do not pay too much with overbidding. 
Is the NFT also part of a collection? The rarer an NFT, the better. But a collection with a good volume, in which many people trade, is also nice. The great thing about NFT exchanges is that all this data is also indicated with the asset, so you know whether a collectible is popular.
It is also useful to view other social media channels of a game collectible or artist. Is a certain NFT collection alive on social media? Do many people play a game? Those are all good signs. In general, knowledge about the NFT that you buy is important to make a profit.
What to Look for When Buying an NFT
If you are new to the NFT World it can all be very overwhelming. It's a fast world. It's not for nothing that they say that in the NFT space an hour seems like a day, a day a week and a week a month!
So keeping a cool head is definitely necessary in this one.
My advice is therefore to enter the NFT World well prepared. As a result, you will not make the mistakes that cost you money by Rugg pull stepping
A thorough basic knowledge by following an NFT course is certainly recommended. Of course, you would rather spend your money on buying an NFT than on buying an NFT course, I understand that too.
But the chance that you do not recognize the hacks or scams is high and that will cost you more money.
There are also people in the NFT World who want to make money at the expense of others. Just like in 'real' life.
What should you pay attention to in order not to get into a scam project or make other mistakes that cost a lot of money?
Here I give you a few tips on what to look out for when buying an NFT.
Official links
Always use the links from Discord to get to the project on the marketplace of the set in question.
This way you avoid entering a fake account and spending your money on the wrong NFT.
Currency
There are more and more cryptocurrencies on the market and they are also used in the NFT World.
Pay attention to which crypto is used in the set where you want to buy your NFT. The fake sets often use Polygon because no gas fee is charged.
Floorprice and Volume
Always check whether the floorprice is correct. This is often talked about in Discord because someone has bought.
If the NFT is much cheaper then you have to pay extra attention because then there is a good chance that you are not on the official page of the set.
Properties and About
At the NFT you can view the Properties under the token and a piece is written about the set. This is always filled in by the team.
This way you can see the rarities of your token and read more info about the set. If nothing is mentioned here, that is certainly a red flag to pay extra attention to.
Include these tips in your research method every time, so you can be sure that you are investing in the right set.
How to recognize a good NFT set
In the NFT world, you often come across the term 'Do Your Own Research. What this means is that you should do your own thorough research before getting into a set.
To be successful with flipping NFTs it is important that you work according to the TUVAC method.
TUVAC stands for Team, Utility, Volume, Art, and Community.
With this method, you will learn to get the best sets. These are the NFT projects that you will soon want to buy an NFT from.
I'm going to explain to you what to do with this.
Team
The team is the engine behind the project. The team members are the people who have to keep the business going. Not only when the set has just been released, but also afterward.
Before you invest in a set, you have to know who those people are.
If the team is doxxed, or they've made themselves known, that's a plus. If the team is publicly known, you can see it on the website, via Twitter, LinkedIn, or Instagram.
This way you can also see what the members have already accomplished in the past. Do they have followers, and are they active on their socials?
Are they known from the NFT World and/or have they already achieved more success in longer existing projects and businesses?
It is important to know who is working behind the project.
Utility
When the team is researching, you are already on the website where you can also look at the plans for the future.
What does the Roadmap of the NFT set look like? Are they going to get started with a Token? Can you earn passive income? Will they expand further into the Metaverse? Are there any collaborations with other sets?
Do they have plans to make a P2E game, for example? From all this data you can determine whether the team is seriously building the future of the NFT project.
Volume
Is there volume in the set? The volume refers to the number of transactions that have already taken place.
You often see a distorted image with a new set, especially if an enormous hype has been created around it. Then the volume can be very large and then quickly decrease again. Making quick flips is best done with sets that have a lot of hype and volume on them. It means that a lot of people are interested in the set.
This creates a lot of demand for the NFTs and the price will go up.
The Art
About taste is debatable, art is very subjective. That is also the case with the art in the NFT space; one thinks the Crypto punks are great, and another doesn't like it and prefers a Bored Ape.
It may sound crazy but Art is often of secondary importance. If you want to make money in the NFT World, the last thing you look at is the Art of the set. Although it is, of course, nice if you just like or like the art.
If all other things are in order, you buy an NFT in the project, even if you don't like the Art. You want to make money trading NFTs so if there is hype and volume you can always buy :-)!
If you want to hold an NFT (hold for a longer term), you can let Art play more of a role in your choice. You might want to use it as your profile picture on your socials :-)!
Then you want to use the NFT that you like best. NFTs can thus become important status symbols. Just like Gucci bags or Breitling watches!
Community
The community is of great importance to the NFT project. A strong and involved community provides enormous added value for the project.
Engaged community members will hold their NFT and not list them for sale. If there are many holders in the NFT set, scarcity will occur and the price will rise.
The team must make sure there is a reason for the hodlers to stay. How do they do this? 
By providing good utility in the form of earning a passive income, for example. Or by giving an Airdrop or free mint to the community. If the team works together with the community on a powerful NFT project, it will only grow.
Just look at the Bored Ape Yacht Club, aka BAYC.
Everything they do is in the interest of the community, and they offer the community good passive revenue models. Because of this people don't want to sell their Ape, they want to stay part of the BAYC community! You now also see more and more sets in the NFT World that will copy the concept of BAYC.
If you are interested in a set, be sure to take a look around in Discord. This is where you get to know the team and the community. Taste the atmosphere and ask questions, so you can see if this is a community that you also want to be a part of.
Conclusion
The NFT market is still in full development. Many more possibilities and new forms of NFT will arise here.
The fashion world is also getting into crypto with wearable NFT sneakers, an NFT consisting of shoes that you can wear and a digital version. This is just one of many new developments in the field of NFTs. It is therefore a dynamic market with a lot to tell. With this article, we want to give a practical answer to the question: how do you buy an NFT?
By now you know that you can purchase an NFT in a few moments. A secure wallet and enough cryptocurrency are sufficient, but the correct knowledge about the NFT you are buying is essential. That's where you take the win.